Tolomatic's founder, Burton Toles started the company with a product called the Float-A-Shaft®, a right angle gearbox designed to "float" along metal shafting to improve the efficiency of packaging bags of flour in the milling industry. Realizing the challenges facing other industrial equipment suppliers and manufacturers, Burton Toles set out to create solutions for other industries. The cable cylinder—the first rodless cylinder—performed the same mechanical functions as cumbersome rods in cylinder designs at the time but in half the space and could be located away from the area of motion. Tolomatic became known as an innovator and leader in the fluid power industry for developing products that met the specific needs of customer requests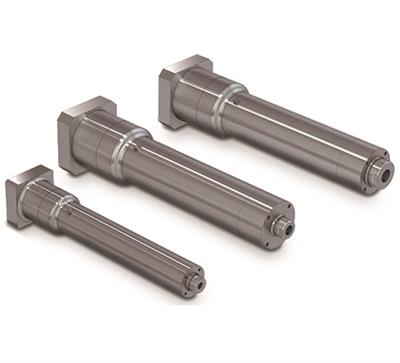 ERD Hygienic (3A/USDA approved) Electric Actuators
ERD hygienic actuators with welded seams are approved for use in meat (livestock), poultry and dairy food processing applications.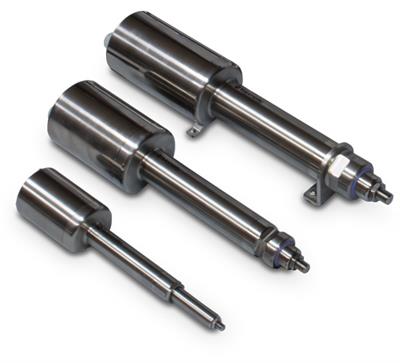 ERD-SS2 Stainless Steel Electric Actuators with Integrated Motor
Tolomatic ERD all stainless steel electric actuators are constructed with either servo or stepper motor in a protective enclosure.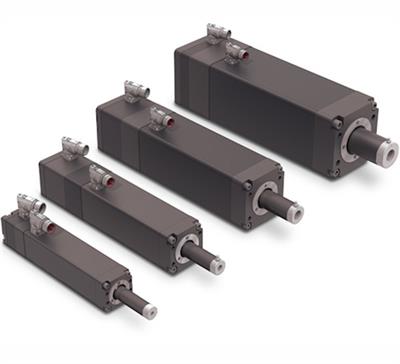 IMA Linear Servo Actuators
he IMA is a heavy duty linear servo actuator with forces to 30.6 kN (6875 lbf) even in high duty cycle applications.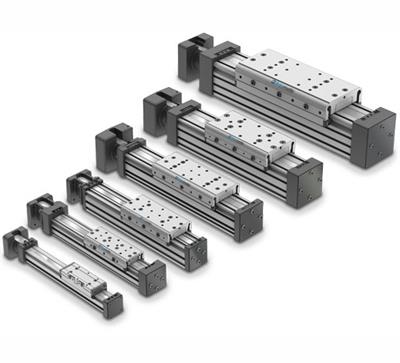 MXE-S Screw Actuators
The MXE-S Screw Actuators with solid bearing carrier design provides long service life.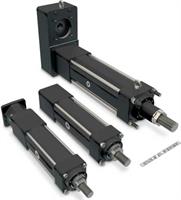 RSX Extreme Force Electric Linear Actuators
RSX electric linear rod actuators are hydraulic-class and provide extreme force capabilities that can replace hydraulic cylinders in demanding applications.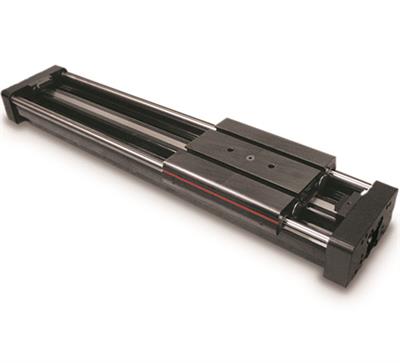 SLS Electric Linear Slide Actuator
SLS electric linear slide actuators guidance system uses recirculating bearings on ground steel shafts for long life.
Electronic Linear Actuators
Tolomatic has all you need for electric linear motion control with an extensive offering of rodless and rod-style electrical linear actuators. Complete your actuator system with either servo or stepper motion control.
Pneumatic Liner Actuators
Tolomatic pneumatic linear actuators include space-saving rodless pneumatic linear actuator designs in band-type, cable and magnetically coupled air cylinder styles. Rod-style Power-Block™ pneumatic linear actuators or thrusters are perfect for short stroke applications.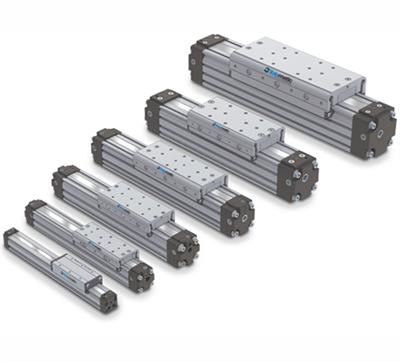 MXP-S Long Stroke Pneumatic Air Cylinder
The MXP-S solid bearing long stroke pneumatic air cylinder offers a large carrier mounting pattern for load stability.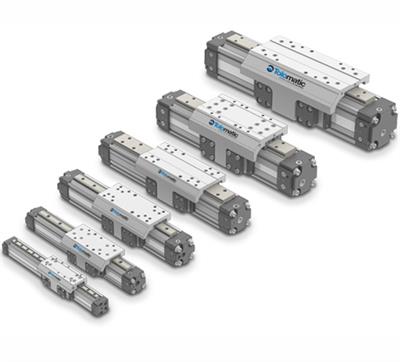 MXP-P Profiled Rail Air Actuator
MXP-P profiled rail air actuators offer high load carrying capacities, low profile and smooth motion.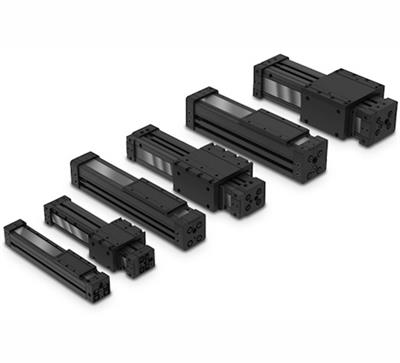 BC3 Heavy Duty Pneumatic Actuators
BC3 heavy duty pneumatic actuators are designed specifically for large load carrying capacities.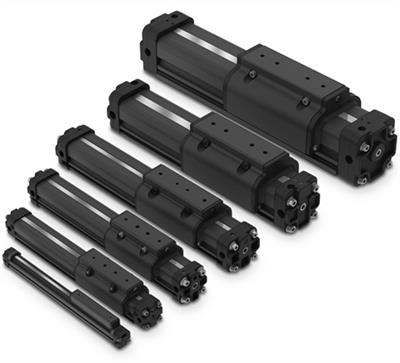 BC2 Pneumatic Band Cylinder
BC2 pneumatic band cylinders provide multiple mounting options and a wide variety of load carrying capacities.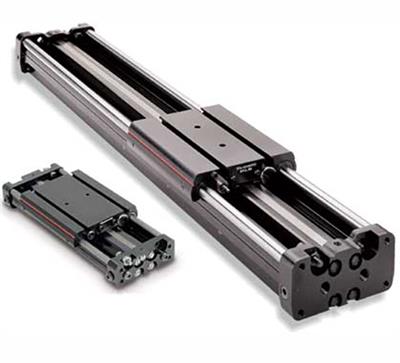 LS Pneumatic Linear Slide
LS pneumatic linear slides are an excellent choice for X-Y configurations or where space constraints are a facto
Slide-Rite® CR Corrosion Resistant, Compact 1 to 1 Ratio Right Angle Gearbox
Space-saving design with wash down ready performance.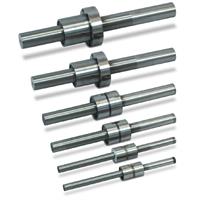 Roller Screws
Designed to provide high force and efficient operation in a compact package for compact machine designs.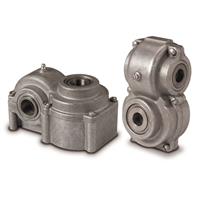 Float-A-Shaft® 3 to 2 Ratio Right Angle Gearboxes with High Torque Roller Bearing
Maximum torque capacities of 1100 in-lbs (124.3 Nm)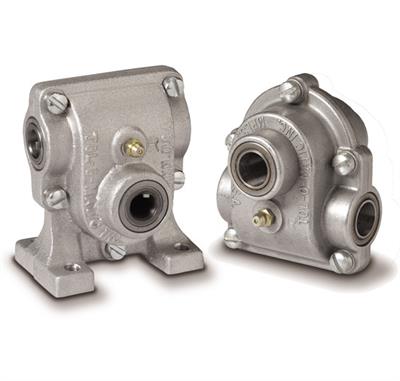 Float-a-Shaft® Compact 1 to 1 Ratio Right Angle Gearboxes with High Torque Roller Bearing
Maximum torque of 440 in-lbs (49.7)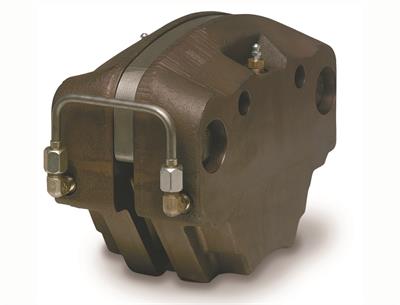 H960 Series Ductile Iron Hydraulic Disc Brake
Maximum dynamic torque of 66,000 in-lbs (7458 Nm) at 1000 PSI (68.95 bar)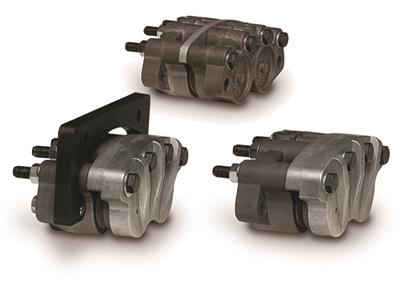 P220 Series Pneumatic Caliper Brake
Maximum dynamic torque of 2000 in-lbs (226 Nm) at 100 PSI (6.9 bar)
Industrial Power Transmission
Tolomatic's line of industrial power transmission products which includes roller screws, gearboxes, brakes and clutches have over 60 years of proven performance in a wide variety of industrial applications.
NEED HELP FINDING THE RIGHT SOLUTION?
News, events, white papers, how-to, industry trends and more!