Norgren Material Handling

As a respected world leader, with a proud history in motion control and fluid technology, Norgren is ideally placed to unearth Breakthrough Engineering solutions and plays an active role in important industry sectors that contribute to the quality and success of everyday life.
Norgren creates intelligent handling systems and delivers products that efficiently, reliably and cost-effectively move, press, shape and form metal in robotic (Tandem), Crossbar, Tri-axis and hot forming press applications.
Tight spaces, odd angles, changing presses and products – your pressroom needs tooling that can adapt to any situation with a wide range of motion and faster speeds for overall increased capacity.
Conventional aluminum and steel booms are heavy and imprecise; carbon fiber booms are lightweight, durable, and sturdier for higher speeds and precision – perfect for material handling. They are also chemical resistant, moldable, and repairable. Our expertise in fabricating, maintaining and refurbishing carbon fiber components is unparalleled in North America. 
Recent trends in vehicle manufacturing found automotive stampers faced with the need to process increasingly thicker blanks while working within smaller size constraints.
Our double blank detection sensors prevent damage to dies and presses by detecting multiple blanks during the load sequence. Contact-style sensors detect multiple blanks in the loading process, allowing early rejection and removal. 
The newest Norgren double blank analyzer, (EDBA) are EtherNet/IP capable, while still maintaining the industry's fastest response times and most durable system!
The PGS range of grippers delivers class-leading grip force and actuation time. They feature a hardened steel chassis that ensures durability and long service life.
GC3 and GC4 clamps are ideal for use in body and assembly due to its closed body to protect from weld sparks.
Norgren's shovels are available as a standard or custom solution. Shovels come with welded steel telescope and optional sensing!
Norgren's material handling group introduces modular tooling and mounting structures systems to incorporate easy, durable and lightweight position mounting solutions for all applications.
Norgren tooling systems allow user friendly integration of vision to assembly, material handling, material detection and welding applications across all industries.
Norgren's stud and nut sensors help to reduce waste and save time in metal pressing plants. By ensuring threads are sound before assembly, faulty parts are removed from the line before they cause problems.
Reduces waste and error
Saves time and cost
Eliminates the need for hand sorting
Can stand up to heavy side loading
Highly sensitive detection
We offer a range of tool changers to meet your needs, making changeover seamless to accommodate high production levels and mix. Use our table to contrast and compare tool changers to determine which is best for your application.
Option 1 - Automation Study (FIP)
Automation studies or the Finger Integration Package (FIP) shows the gripper, cup, or end effector location together with the transfer curves.
Ensures die design is optimal for automation
Increases strokes per minute (SPM)
Eliminates or reduces extra machining cost due to automation issues
Ensures panel optimal handling 
Smooth home line press launches
No tooling design is included in this package
Option 2 - Curve Creation
This process takes die components and press capabilities into consideration to design curves that will optimize throughput.
Option 3 - Tooling Design with Tooling Integration Review (FIR)
Tooling Design:
Shows completed design with full dies and panel strip layout
Smart Press Models allow our Engineering Team to check accuracy in all positions of the transfer motion
Tooling or Finger Integration Review (FIR):
Identifies issues between the tooling and the die in advance
Evaluates the complete design and explains all issues and concerns found during the design stage
Helps eliminate interference issues during home line tryout, as well as rework machining costs 
FIR report is included with every Tooling Design
Option 4 - 2D Documentation
Provides supporting documents for the build, order, and set-up of the panel and press
Option 5 - Hard Tool Check
Provides verification that the FIR report changes have been made by the die design source
Provides verification that the dies match the die design and panel transferability
Option 6 - Tooling Assembly
This process verifies that the tooling is built exactly to the design parameters.
Ensures the customer receives plug-and-play tooling for quick and easy installation
Option 7 - Tooling Installation (Launch Support)
Our Field Support experts will come to the plant and aid with the initial tooling set-up.
Reduce Home Line Tryout time
Simulation can be done to improve the transfer and  performance of the press (SPM), and/ or to optimize the transfer curve for a new job.
A Norgren Press Programming Specialist will optimize your transfer curves using transfer press simulation software
Press curves are custom to each die 
Analyzes current transfer, identifies clash or clearance issues, and adjustments to increase SPM
Completely eliminates trial and error prior to first run
Faster start up, avoid die rework, and increa
Automation and tooling services
   We offer eight different service options to help you get the most out of your machines. Our packages maximize SPM (strokes per minute), reduce start-up time and increase over-all equipment efficiency in the press room.

   We design, build, and install highly productive tooling packages that increase press throughput, reduce setup time or downtime, and improve ergonomics and safety.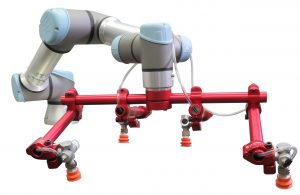 Adaptive and Transforming Tooling
   Optimize your business's tooling for all pick-and-place material handling applications. Transforming Tooling a series of arms driven by electric motion, providing a new way to move products in a repeatable, accurate, and reliable manner.
Benefits: 
Eliminate hundreds of thousands of dollars in recurring tooling costs
Free up hundreds of square meters of floor space
Eliminate manual tool change and optimize safety
Palletizing and Packaging
   We have over 20 years of experience in carbon fiber design, manufacture and repair. Unlike their conventional aluminium and steel equivalents, carbon fiber bars can be repaired. We also offer services analyzing the deflection, vibration and stress of the carbon fiber structure.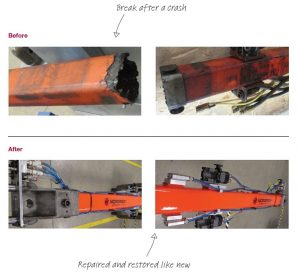 Conventional aluminum and steel booms are heavy and imprecise. Carbon fiber booms are lightweight, durable, and sturdier, for higher speeds and precision: perfect for pick-and-place or transfer presses.
Advantages:
Using a unique carbon fiber layup structure, the weight of the system is reduced by 50% over traditional steel; without compromising the strength and deflection
High strength and stiffness can be attained using modulus carbon fiber material
Carbon fiber can be molded into complex shapes or long structures (up to 20 feet) to meet custom loading characteristics 
Lighter structures increase automation strokes per minute (SPM)
Finite Element Analysis (FEA)
FEA is performed with a composite material layer analysis tool to analyze the deflection, vibration, and stress of the carbon fiber structure.
Layer analysis is capable of:
Showing layer patterns (parallel, cross)
Analyzing the deflection and stress within individual layers
Deflection test
Performed after the carbon fiber layup and baking process
Compares theoretical and physical deflection test data
Accelerometer test
Performed while the crossbar is in working condition to collect vibration and deflection data
Unlike steel bars, carbon fiber bars can be repaired, saving money in the long run.
Layer analysis is capable of:
Repair strengthens the carbon fiber structure
Save money by repairing booms or crossbars instead of replacing them after a break
Black Slice Nesting System
Black Slice Nesting System for supporting panels in press idle stations when a die is lacking, or a part needs to be staged for the next automation. The Black Slice Nesting System conforms to the geometry of the part for effective support and protection.
Linear slides to work around a pitch problem
Tooling carts for organized tooling storage by job
Tipper, Rotary or Spreader Units
Tipper, Rotary or Spreader Units work around die process issues
Turnover stations resolve part orientation issues
Custom Press Room Projects
   Amending processes for new parts or reusing old tooling can occasionally call for custom equipment to fit existing equipment in new applications or plants.
   From turnover stations to idle stations, linear slides or tipping stations, our Applications Engineering Team can design and develop your special equipment to accommodate special part shapes or space requirements for your application.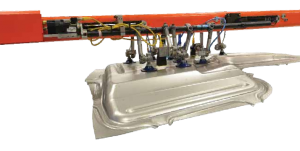 We offer a full spectrum of die services, from processing to die design and feasibility studies.
Our Die Design Team can provide three types of design packages:
3D die processing creates ideal die layouts, by minimizing the number of dies needed and reduce machining waste
3D die design modeling replicates die functions by filling gaps between dies, or orienting and rotating parts in a series of dies
Feasibility press studies perfect the die process by automating sheet metal motion plans through a press or within multiple presses and idle stations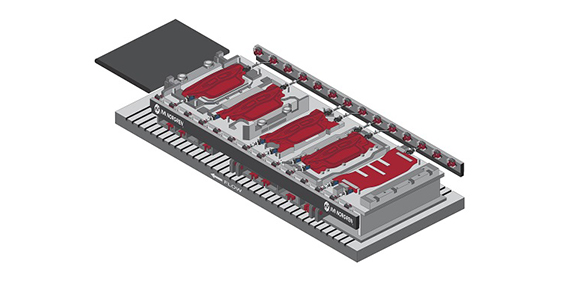 NEED HELP FINDING THE RIGHT SOLUTION?
News, events, white papers, how-to, industry trends and more!